---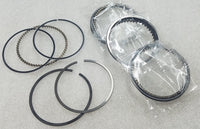 Yamaha 81-83 XJ750 Seca Maxim Piston Ring Set STD 65mm -Set of 4 - Repro
New reproduction parts. Set of FOUR ring sets. Enough for the four pistons in your engine.
Standard size bore. 65.0mm.
Top Ring Thickness -1.2mm
Center Ring Thickness - 1.2mm
Oil Ring Thickness - 2.5mm

Installation Instructions-
Chrome ring on top.
Black ring in the middle.
3 piece oil ring on the bottom.
Measure ring gap as specified in manual.
Fits the following models.
Part # = 5G2-11610-00-00
Part Description = PISTON RING (STD)
XJ750RH 1981 750 XJ750R Seca Street 
XJ750RJ 1982 750 XJ750R Seca Street 
XJ750J 1982 750 XJ750 Maxim Street 
XJ750K 1983 750 XJ750 Maxim Street 
XJ750MK 1983 750 XJ750M Midnight Maxim Street 
XJ750RK 1983 750 XJ750R Seca Street