---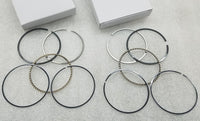 Yamaha 74-84 XS650 Piston Ring Set STD -Set of 2 - 447-11610-00 Repro
New reproduction parts. Set of TWO ring sets. Enough for the two pistons in your engine.
Standard size. 75.0mm.
Fits the 447 pistons. Will not fit the 256 pistons. 
1.2mm thick top
1.5mm thick center
2.8mm thick bottom
Installation Instructions-
Chrome ring on top.
Black ring in the middle.
3 piece oil ring on the bottom.
Fits the following models.
Replacement to Part # = 447-11610-00-00
Part Description = PISTON RING (STD)
Model Count = 16
XS650-2F 1979 650 XS650-2 Street
XS650C 1976 650 XS650 Street
XS650D 1977 650 XS650 Street
XS650E 1978 650 XS650 Street
XS650E-006501 1978 650 XS650 Street
XS650F 1979 650 XS650 Street
XS650G 1980 650 XS650 Special II Street
XS650H 1981 650 XS650 Special II Street
XS650SE 1978 650 XS650S Street
XS650SE-114241 1978 650 XS650S Street
XS650SF 1979 650 XS650S Street
XS650SG 1980 650 XS650S Street
XS650SH 1981 650 XS650S Street
XS650SJ 1982 650 XS650S Heritage Street
XS650SK 1983 650 XS650S Heritage Special Street
XS650SL 1984 650 XS650S Heritage Special Street