---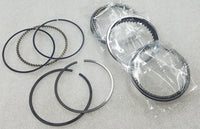 Kawasaki 77-83 KZ650 SR LTD CSR Piston Rings - 4 Sets - STD 62.0mm Bore - Repro
Four piston ring sets. Enough for the four cylinders in your 650 engine.
Chrome ring on top.
Black ring is second ring.
Bottom ring is 3 piece oil ring.
PLEASE be sure the rings you are replacing are of STANDARD size.
Be sure to check ring end gap per specs in manual.
Part # = 13008-059
Part Description = PISTON,RING SET,STD
Model Count = 15
KZ650-B1 77 650 KZ650 STREET
KZ650-B2 78 650 KZ650 STREET
KZ650-B2A 78 650 KZ650 STREET
KZ650-B3 79 650 KZ650 STREET
KZ650-C1 77 650 650 CUSTOM STREET
KZ650-C2 78 650 650 CUSTOM STREET
KZ650-C3 79 650 650 CUSTOM STREET
KZ650-D1 78 650 650 SR STREET
KZ650-D1A 78 650 650 SR STREET
KZ650-D2 79 650 650 SR STREET
KZ650-E1 80 650 650 LTD LTD STREET
KZ650-F1 80 650 650 CUSTOM STREET
KZ650-H1 81 650 650 CSR STREET
KZ650-H2 82 650 650 CSR STREET
KZ650-H3 83 650 650 CSR STREET