---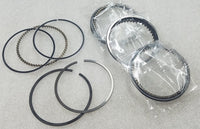 Honda CB650SC 650 Nighthawk Piston Ring Set STD -Set of 4 - 13011-ME5-004 - Repro
New reproduction parts. Set of FOUR ring sets. Enough for the four pistons in your engine.
Standard size bore. 60.0mm.
Top Ring Thickness -1.0mm
Center Ring Thickness - 1.2mm
Oil Ring Thickness - 2.5mm

Installation Instructions-
Chrome ring on top.
Black ring in the middle.
3 piece oil ring on the bottom.
Fits the following models.
1983-85 CB650SC Nighthawk
Part # = 13011-ME5-004
Part Description = RING SET (STD)
Model Count = 3
CB650SC-D 1983 650 Nighthawk 650 Street
CB650SC-E 1984 650 Nighthawk 650 Street
CB650SC-F 1985 650 Nighthawk 650 Street