---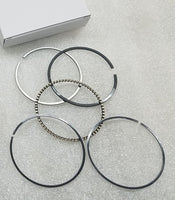 Honda CA200 CA95 CT200 Piston Ring Set - STD Size
New reproduction parts. One ring set.
If you have two pistons you need to buy two sets.
Standard size. 49.0mm.
1.5mm thick top
1.5mm thick center
2.5mm thick bottom
Installation Instructions-
Chrome ring on top.
Black ring in the middle.
3 piece oil ring on the bottom.
Fits the following models.
Part # = 13011-030-000
Part Description = RING SET (STD) - (replaces 13011-201-000, 13010-201-000)
Model Count = 3
CA200  90 Touring 90 Street
CA95 150 Benley Tourer Street
CT200  90 Trail 90 Dual Sport