---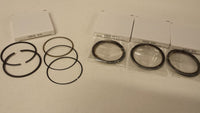 Honda 71-73 CB500 Four CB500K Piston Rings < 4 Sets > STD 56.0mm Bore - New Reproduction
New reproduction piston rings to fit your original pistons. Oil ring is updated to 3-piece design.
This ring set does not fit the CB500T two cylinder engine.
Four piston ring sets. Enough for the four cylinders in your 500 engine.
Chrome ring on top with "R" up.
Beveled black ring is second ring with "R" up.
Bottom ring is 3-piece. Be sure not to overlap ends of middle ring.
PLEASE be sure the rings you are replacing are of STANDARD size.
Part # = 13011-323-014
Part Description = RING SET (STD)
Model Count = 3
CB500 1971 500 500 Four Street
CB500-K1 1972 500 500 Four Street
CB500-K2 1973 500 500 Four Street