---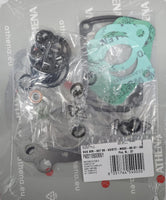 Ducati Paso Elefant 900 906 907 ST2 944 Monster 900 900SS Athena Top End Gasket Set
Includes gaskets for the top end only. Does not include gaskets for the lower end. 
Made in Italy

Athena is the OEM manufacturer of Ducati gaskets. 
Ducati OEM#  79120031A
Please look at the pictures to be sure this is the correct kit for your year and model.
This kit includes all the gaskets for a complete engine overhaul. Athena offers the widest range of replacement gaskets available on the market, with over 40 years of experience in the sector, directly supplying the world's most important motorcycle manufacturers. Athena's gasket kits are based on solid know-how, continuous technological development carried out by its in house team of engineers and designers, and Italian manufacture that precisely follows the strict parameters required by the OEMs.
Vehicle compatibility

CAGIVA ELEFANT I.E 900 cc 1991-1998
DUCATI 907 I.E. USA 907 cc 1989-1993
DUCATI 944 ST2 944 cc 1997-1998
DUCATI DUCATI 907 cc 1989-1993
DUCATI I.E 900 cc 1989-1993
DUCATI MONSTER 900 cc 1993/1998
DUCATI MONSTER CITY / CITY DARK 900 cc 1999
DUCATI MONSTER CROMO / SPECIAL 900 cc 1999
DUCATI MONSTER DARK 900 cc 1999
DUCATI MONSTER USA 900 cc 1999