---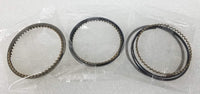 Yamaha 78-79 XS750 Piston Ring Set STD 68mm -Set of 3 - Reproduction
New reproduction parts. Set of THREE ring sets. Enough for the three pistons in your engine.
Please be sure the rings you are replacing are standard bore, 68mm.
Does not fit the 1977 XS750 model!
1.0mm thick top
1.5mm thick center
2.8mm thick bottom

Installation Instructions-
Chrome ring on top.
Black ring in the middle.
3 piece oil ring on the bottom.
Part # = 2F3-11610-03-00
Part Description = RING SET STD
Model Count = 6
XS750E 1978 750 XS750 Street 
XS750E-227501 1978 750 XS750 Street 
XS750SE-311211 1978 750 XS750S Street 
XS750SE 1978 750 XS750S Street 
XS750F 1979 750 XS750 Street 
XS750SF 1979 750 XS750S Street