---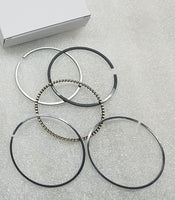 Honda ATC90 CT90 S90 ST90 SL90 CL90 CB160 CL160 CA160 Piston Ring Set - STD Size
New reproduction parts. One ring set.
If you need rings for two pistons you need to purchase two sets.
Standard size. 50.0mm.
1.2mm thick top
1.2mm thick center
2.5mm thick bottom
Installation Instructions-
Chrome ring on top.
Black ring in the middle.
3 piece oil ring on the bottom.
Fits the following models.
Part # = 13011-121-762
Part Description = RING SET, PISTON - (replaces 13010-028-000, 13010-028-025, 13011-102-732, 13010-121-732, 13010-028-035, 13010-028-020)
Model Count = 25
ATC90-K0 1971 90 ATC90 ATV 
ATC90-K1 1973 90 ATC90 ATV 
ATC90-K2 1974 90 ATC90 ATV 
ATC90-K3 1975 90 ATC90 ATV 
ATC90-K4 1976 90 ATC90 ATV 
ATC90-K5 1977 90 ATC90 ATV 
ATC90-K6 1978 90 ATC90 ATV 
CL90 1967 90 Scrambler 90 Dual Sport 
CM91 1966 90 Honda 90 Street 
CT90 1966 90 Trail 90 Dual Sport 
CT90-K1 1969 90 Trail 90 Dual Sport 
CT90-K2 1970 90 Trail 90 Dual Sport 
CT90-K3 1971 90 Trail 90 Dual Sport 
CT90-K4 1972 90 Trail 90 Dual Sport 
CT90-K5 1974 90 Trail 90 Dual Sport 
CT90-K6 1975 90 Trail 90 Dual Sport 
CT90-K7 1976 90 Trail 90 Dual Sport 
CT90-K8 1977 90 Trail 90 Dual Sport 
CT90-K9 1978 90 Trail 90 Dual Sport 
CT90-Z 1979 90 Trail 90 Dual Sport 
S90 1965 90 Super 90 Street 
SL90 1969 90 Motosport 90 Dual Sport 
ST90 1973 90 ST90 Mini Bike 
ST90-K1 1974 90 ST90 Mini Bike 
ST90-K2 1975 90 ST90 Mini Bike 
Part # = 13012-217-000
Part Description = RING SET (STD)
Model Count = 3
CA160 1966 160 Touring 160 Street
CB160 1965 160 Sport 160 Street
CL160 1966 160 Scrambler 160 Dual Sport