---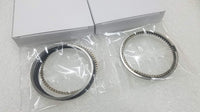 Honda CB360 CL360 CJ360 Piston Rings STD 67.0mm Bore - Repro
Two piston ring sets. Enough for the two cylinders in your 360 engine.
Chrome ring on top.
Black ring is second ring.
Bottom ring is 3 piece oil ring.
Top Ring Thickness -1.5mm
Center Ring Thickness - 1.5mm
Oil Ring Thickness - 2.5mm
PLEASE be sure the rings you are replacing are of STANDARD size.
Part # = 13011-369-305
Part Description = RING SET (STD) - (replaces 13011-369-003)
Model Count = 8
CB360G 1974 360 CB360G Street 
CB360-K0 1974 360 CB360 Street 
CB360T 1975 360 CB360T Street 
CB360T-76 1976 360 CB360T Street 
CJ360T-76 1976 360 CJ360T Street 
CJ360T-77 1977 360 CJ360T Street 
CL360 1974 360 Scrambler 360 Dual Sport 
CL360-K1 1975 360 Scrambler 360 Dual Sport